Foster indicates in Celebration of Discipline that the difference between Christian meditation and other eastern meditation techniques is that the emphasis of Christian meditation is filling oneself UP rather than emptying oneself. The fullness of the Holy Spirit and listening to the voice of God (and obedience to His voice) is the aim rather than ridding ourselves of everything and finding a place of "nothingness."

About Nathan

Nathan Key likes to think about faith and philosophy and talk about it with others. He lives with his family in New Hampshire. He doesn't always refer to himself in the third person.

Powered by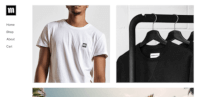 Create your own unique website with customizable templates.