This is good news. In a few moments, we'll have a computer at home again. Lugging this work laptop back and forth isn't as fun as it sounds. And on top of that, I won't have to deal with PC problems anymore!

About Nathan

Nathan Key likes to think about faith and philosophy and talk about it with others. He lives with his family in New Hampshire. He doesn't always refer to himself in the third person.

Powered by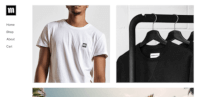 Create your own unique website with customizable templates.